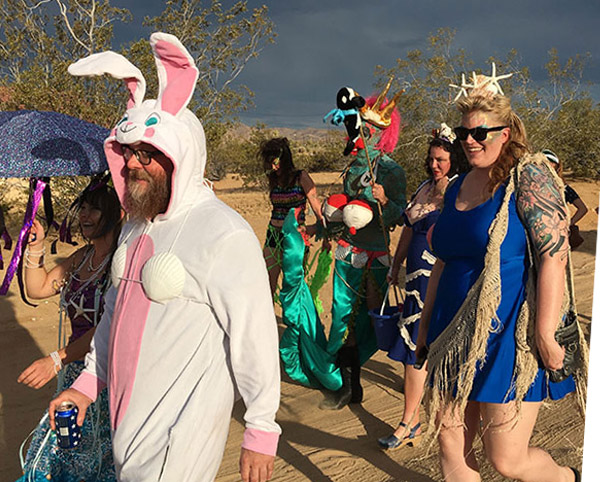 What to do when you live in the Mojave Desert and you long to be flip-flopping around at The Coney Island Mermaid Parade in New York? To counter feeling like a fish out of water, you invite a group of adventurous friends from Las Vegas to dress up and strut their stuff amongst the Yucca palm trees and honking cars of Highway 62 in Joshua Tree, California.
Artist Aaron Sheppard, in collaboration Erin Stellmon, led a procession of mermaids, sea urchins and a seashell-clad pooka in the aptly named parade, "Bearded and Shucked." His larger than life creation of a green lace bodysuit, fish bobbins for breasts, high heel boots and a orca-adorned staff shepherds a colorful cast of characters through dirt roads, convenience stores, and bars under a moody desert sky.
"I was intending to dress like Neptune with a long white beard. My character morphed into itself as a more playful iteration, since, as creating it, I decided I wanted something more dynamic and simply fun," Sheppard says. "I found its eyes, rubber car scraps along the road, as I walked the parade path before the event as a dry run endurance test."
"The eyes made the character more Sleestak-esque (Land of the Lost). My outfit had become alien or reptilian, while also being plush puppet-like – a perfect mascot for mermaids," adds Sheppard.
Sheppard's painting, performance, installation, and sequential art comes from a body of work that engages sexuality and gender identity. Sheppard's personal retreat and atelier, Horns of Cypress, reflects his affinity for tangible dualities that are actually complementary and interconnected in nature. Elements of masculinity femininity, desert and aquatic life embody his desert Xanadu.
And "Bearded and Shucked" embraces Sheppard's keen performative nature.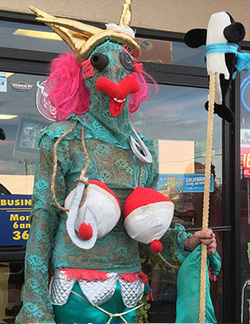 My work has evolved in the last few years from purely spectacle, as physically engaging within the space of my viewers, to a more objectification of the body as living sculpture," says the artist. "I source fable, religion and my own reflective writing for iconic examples then incorporate what I find into examinations of identity or role-playing."
The Mermaid Parade is a party that exists from the opulence of self-adornment all the way through to the end of melted off makeup and remnants of well worn costumes. Despite triple digits of extreme heat, the merriment of all who attended the Joshua Tree parade brought joy to everyone they met along the parade route. The group's interacting brought connections and smiles otherwise not there. In the end, nothing matters more than genuine rawness, love between friends and strangers, appreciations of simple fun. The desert heat only amplified the sincerity of parade participants and made distant onlookers wonder if it were all a mirage.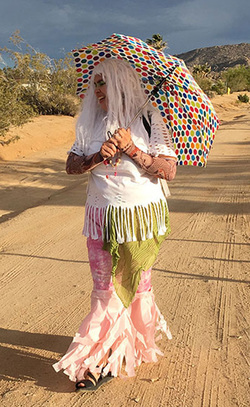 The intention of "Bearded and Shucked" pays tribute to the original parade in Coney Island. Sheppard has been attending that parade since 1996 and there is a core group of people that he goes with, and meets there, religiously. The desert version of the parade serves to honor the people Sheppard has met at each Mermaid Parade who have celebrated life to the fullest, and who encouraged him to be the artist who he is today. "Bearded and Shucked" is also an opportunity to be with friends and create new experiences.
Future parades will be held earlier in the year to take advantage of cooler temperatures and access to the Joshua Tree National Park for good ol' mermaid posing sessions.
by Laura Henkel, Guest Contributor, Published in Paint This Desert